Phew, what busy morning it's been for me. Remember that work I didn't have the mood to do yesterday? The one where I had not an inkling of an idea at all? Well, I finally managed to get it done, well almost anyway. I need to do some
market research
for it online before I can finish it. Ok, ok, that was just an excuse to get online and check my blog ... LOL! I can't stay away from it for too long.
I'm actually in the Christmas mood right now. While doing my work, I've been on LimeWire downloading Christmas songs all day. In fact I still have it downloading loads more ... hehehe ... I don't know why but I'm in such high Christmas spirits this year. I mean, don't get me wrong, I'm always in high spirits for Christmas, but this year I think my spirits are so much higher and I really can't wait for the actual day to arrive :)
I'm actually compiling all the songs I need for the Christmas dance we're planning to have at my buddy's place and I know he has tons of CD's and I could just rip it from him but I'd like to make this a nonstop compilation of songs so that I won't have to change CD's and be interrupted during my dance sessions with wifey ... hehehe ... oh and this time I'm making sure there are loads of slow numbers!
Christmas is always one of my favourite times of the the year. I know my good buddy Adrian shares the same sentiments as me. In fact, he's always been much more enthusiastic about this particular season than I am and throughout my years of knowing him, it's rubbed off a lot on me and I think I'm as enthusiastic as him now :D He's even got his Christmas tree up quite a while now and I know I've said this in my other blog Spiff, the Spaceman but I'm going to say it again. He has the best Christmas tree in the whole of PJ, maybe even Selangor! Don't believe me? Stop by his house and you'll walk away amazed :)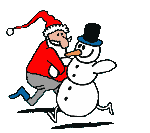 You know, every year, just before Christmas, we'd always have this thing we call a
pre-Christmas bash
where the 3 of us
(Adrian, our other buddy Seansy and me)
will hang out at his place and just sing Christmas carols, drink, chit chat and reminisce about stuff until the wee hours of morning
(well, not really that wee any longer cos we're all older and need our beauty sleep ... LOL!)
. I gotta check with him if it's still on this year. I'm sure it is but you can't simply presume things, ya?
Ah, it's such a wonderful season that it bring a tear of joy to my eye ... LOL! And no, there are no tears in my eye right now, just in case you're all wondering. I may be shy but I'm not sensitive, then again wifey would tell you otherwise if you ask her about my sensitivity
(and not a word out of you buddy!!!)
. The only thing I wish we had here that would make Christmas complete would be snow. Now that would be awesome! Maybe if I prayed hard enough, it just might snow a teeny weeny bit, what with the freaky weather patterns and all.
'You don't think so?'
Oh well, maybe a naked dance in my garden to the snow gods might yield some results.
'No? That won't work too? You sure?'
Drats, looks like it's going to be the usual hot Christmas again. Maybe I could just put a tiny little Christmas tree in my freezer and make a tiny snow man and just stick my head in there, that just might do the trick ... LOL! Hmmm, I just might put a tiny Christmas tree and make a snow man in my freezer. In fact I think I'll even make a whole snow scape Christmas scene out and I'll even take a picture and post it here when I've done it ... hehehe ... since I can't have the real snow thingy and all, that will just have to do.
Oh gee, look at the time, I still have loads of work to do and here I am blabbering away nonsensically. Time to get back to that research I was supposed to do. Damn, this blogging thingy sure is addictive la ... Pleasant rest of the day folks. Hope Wednesday's been as good a day for you as it has for me :)
.